Goodwood Revival – UK – Sept 16-18 2011
by cricketdiane (D.C.Phillips), 09-15/16-11
Starting today 60 miles from London at the Goodwood Revival, time will stop and flow back to 1948 and 1966 when one of Britain's greatest racing events was thriving.
"Goodwood is located just outside Chichester, only 60 miles from London, 30 miles from Brighton and Southampton," according to the event's website mapping page. Tickets are required and some events of the Goodwood Revival have already sold out.
Between 1948 and 1966, the Goodwood Motor Circuit held at the former World War II Aerodrome hosted racing venues, including Formula One, Goodwood Nine Hours race and the Tourist Trophy Sportscar race. Throughout this weekend starting today, those moments of yesterday will meld with every event during the greatest racing party ever hosted on the other side of the pond.
"The Revival is the world's most popular historic motor race meeting and the only event of its kind to be staged entirely in the nostalgic time capsule of the 1940s, 50s and 60s that relives the glory days of Goodwood Motor Circuit," as the event's website describes the Goodwood Revival for 2011. "The Revival offers visitors the opportunity to leave the 'modern world' behind and join motor sport luminaries including Sir Stirling Moss, Richard Attwood, John Surtees and Derek Bell in an unabashed celebration of flat-out wheel-to-wheel racing around a classic racetrack, untouched by the modern world."
There will be special tributes to Juan Manuel Fangio celebrating the centenary of his birth and the 60th anniversary of his first win of five as world champion. At the Goodwood Revival there will also be a circuit parade featuring 100 of the greatest Ford vehicles in honor of 100 years of Ford Great Britain. A special tribute celebrating a special group of British Motorcross riders who have won numerous events between 1955 and 1966.
More about each tribute:
100 YEARS OF FORD GREAT BRITIAN
Among the other highlights of the Goodwood Revival this year, will be racing events in the old ways far from modern memory, the Old Bicycle Company will show interesting original vintage bicycles, and the Flying Fortress B-17G 'Sally B' with her 104 ft wingspan and 74 ft length will be joining 28 other aircraft for the Freddie March Spirit of Aviation concours d'elegance.
Click here to watch live footage of the B17 land at Goodwood Aerodrome. (from the event website)
Friday, 16 September Events
http://www.goodwood.co.uk/revival/event-itinerary/friday.aspx
Saturday, 17 September Events
http://www.goodwood.co.uk/revival/event-itinerary/saturday.aspx
Sunday, 18 September Events
http://www.goodwood.co.uk/revival/event-itinerary/sunday.aspx
**
And for more information about the Goodwood Revival –
http://www.goodwood.co.uk/revival/welcome.aspx
**
Also in honor of this year's Goodwood Revival, there is a special auction taking place at Bonham's –
Sale 19289 Lot 287

   Show details    
   Bid / Track

1938 SS100 Jaguar 3½-Litre Roadster Chassis no. 39030
Estimate: £200,000 – 250,000, € 230,000 – 290,000
Collectors' Sports Cars, Motor Cars, and Automobilia
Friday 16 September, 2011
Goodwood Revival, Sussex
Lots 1 to 137 Goodwood Revival, Collectors' Automobilia (16 Sep 2011 starting at 15:30)
Lots 201 to 290 Goodwood Revival, Collectors' Motor Cars (16 Sep 2011 starting at 17:00)
Among the items being offered at Bonham's UK on auction today during the Goodwood Revival in Sussex, are Esso characters and others used in the advertising of automotive products, a variety of wonderful photographs and posters from past automotive racing history, and Lalique hood bonnet decorative mascots once commonly adorning vintage automobiles. Those are only a few of the catalogue entries which can be found online at the Bonham's site for their "Collectors' Sports Cars, Motor Cars, and Automobilia" auction Friday, 16 September 2011.
"Bonhams Motoring Department is the largest auction house to hold scheduled auction sales of classic & vintage motor cars and car memorabilia."
Collectors' Sports Cars, Motor Cars, and Automobilia
Friday 16 September, 2011
Goodwood Revival, Sussex
including
The ex-Sir Robert Ropner Factory Supplied Semi-Lightweight 1964 Jaguar E-Type
http://www.bonhams.com/eur/cars/
**
Sale 19289 Lot 77 †

   Show details    
   Bid / Track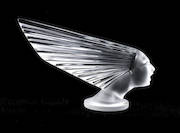 A post-War 'Victoire' glass mascot, by Lalique, France,
Estimate: £700 – 900, € 800 – 1,000
(from the Bonham's catalog for the sale mentioned above – among other nifty things.)
**
Two other auctions from Bonham's – one tomorrow on Saturday, September 17, 2011 in the US and one in Munich during October –
Fairfield Concours d'Elegance, Exceptional Collectors' Motorcars and Automobilia
17 Sep 2011 – 18 Sep 2011, Connecticut, Westport
Power by BMW – BMW Powered Motor Cars, Motorcycles & Related Automobilia
1 Oct 2011, Munich, BMW Museum
for more information – (and the Sale in Westport Connecticut tomorrow on Saturday has extraordinary parts for Rolls Royce restoration buffs, Bentley goodies and other wonderful things – check their catalog – very amazing.)
**
Yes, very nifty.
– cricketdiane
***