Tags
4th of july, America, american, american families, collectibles, commemorative plates, commemorative usa plates, Cricket Diane C Phillips, Cricket House Studios, cricketdiane, family, family plates, military appreciation, patriotic, patriotic designs, patriotic plates, Patriotism, red white and blue, Stars and Stripes, style, USA, USA plates
These porcelain plates I designed are available on Zazzle so that you can customize them with your family name, this year or another year of special commemoration and use them to hang on the wall as collectibles and family commemoration plates. Simply use the template field to change my family name and this year, to whatever you want with your family name. Wonderfully pretty.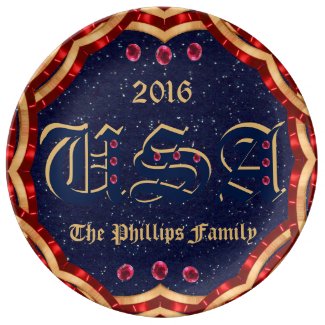 America USA July 4th Patriotic Family CricketDiane Dinner Plate
by
CricketDiane
Shop for another
party plate
**
About CricketDiane –
I've been creating nearly every day since I was a kid and that is over 50 years. I've created in numerous ways in a range that moves from art to problem-solving to inventing, creating music, sculpting and painting to writing and doing various computer / online based projects.
"It is better to make the effort to move forward and release the flow of ideas to work with them and do things creatively, create things and invent and write and make – I definitely know that by experience." – cricketdiane, 2018
**
You can find more of my art and designs here –
CricketDiane and Cricket House Studios Store on Zazzle
and other blog writings by me here –
https://cricketdiane.wordpress.com/
On YouTube –
**
The website for Cricket House Studios Art and Design is found here –
http://www.crickethousestudios.com/
And see my current efforts on GoFundMe to make a board game I created into a video game that I'm working on right now – (NOT active right now – re-analyzing this effort)
The Scared Donkey Mine Money Game by CricketDiane on GoFundMe
Thanks for checking us out!
The Cricket House Studios Team and CricketDiane
**